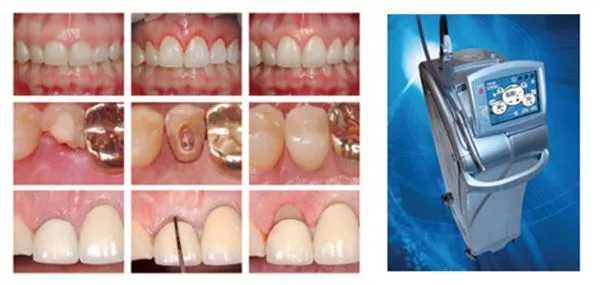 What is the WaterLase Laser?
Years of engineering and research by led to discovery of a water-energizing 2,780 nm YSGG laser and an air & water hand piece that combine to symbiotically excite water molecules from within both the spray and the target tissue. This results in a biological, effective micro-ablation of tooth structure, bone, or soft tissue.
It's Painless
The drill works with friction, which causes heat and triggers pain. This necessitates injection with anesthetic and numb lips, and opens the possibility for thermal damage. WaterLase iPlus uses a unique, powerful interaction of our patented YSGG laser wavelength and proprietary water/air spray that cuts, etches and shapes target tissues without contact, heat, vibration or pressure. So many procedures can be done with no anesthetic and no pain. WaterLase is also highly effective for gums, skin, and bone – more precisely and with less bleeding than a scalpel!
It's Biological
The WaterLase Laser is from BIOLASE Technology the world's leading maker of dental lasers. Tooth enamel naturally contains up to 5% water; dentin and bone up to 25%. Years of BIOLASE research led to discovery of a water-energizing 2,780 nm YSGG laser and a hand piece that delivers air and water in precise proportions – both BIOLASE patented – that combine to symbiotically excite water molecules from both the hand piece spray and inside the target tissue. The result is an effective biological micro-ablation of tooth structure. The atomized spray of water and air continually re-hydrates the tooth, preventing heat and pain.
It's More Convenient
Your WaterLase Dentist can often get you in and out of the dentist chair faster, since it's less likely that you'll need an injection – research shows that the vast majority of patients don't. It's nice to avoid that shot, isn't it? Not using anesthetic can allow your dentist to perform procedures that used to require more than one visit in a single appointment. Also, a WaterLase Dentist can perform procedures that once meant an additional trip to a specialist, saving you even more time.
It's More Precise
Lasers have long been the standard of care in medicine for many surgical and cosmetic procedures such as LASIK, wrinkle and hair removal and many others. WaterLase® was approved for hard tissue procedures in 1998 and since has been cleared for numerous additional dental procedures. Thousands of dentists around the world have performed thousands of procedures with less need for shots, anesthesia, drills and post-op numb lips.
It's Safer
The potential for cross-contamination between patients in the dental operatory is a real and widely documented risk. WaterLase technology has the potential to reduce this risk. 15% of "sterilized" burs and up to 76% of "sterilized" endodontic files carry pathogenic micro-organisms. Complex bur surfaces are difficult to clean. Autoclaving fails to completely decontaminate burs. WaterLase is a cleaner, safer dental instrument. Its flawless tip surface does not harbor debris or bacteria like abrasive surface of burs and files. WaterLase YSGG laser energy kills bacteria. It works without contact to the tooth. WaterLase offers single-use, disposable tips. And WaterLase tips eliminate accidental "sticks" possible while dental staff handles contaminated burs.
Painless Biological Dentistry
Heat, vibration and pressure are the primary causes of pain associated with the use of the traditional dental drill. Since cutting both hard and soft tissues (teeth and gums) with the WaterLase® does not generate heat, vibration or pressure, many dental procedures can be performed with fewer shots, less need for anesthesia, less use of the drill and fewer numb lips! Additionally, using the WaterLase® for gum procedures reduces bleeding, post-operative pain, swelling and the need for pain medication in many cases. Accuracy & Precision WaterLase® dentists are able to remove tooth enamel decay (the hardest substance in the body), bone and gum tissue precisely while leaving surrounding areas unaffected. This conserves and allows you to keep more of the healthy tooth structure.
Reduced Trauma
High speed drills can cause hairline cracks and fractures in the teeth that eventually lead to future dental problems. WaterLase® reduces damage to healthy portions of the tooth and minimizes trauma.
Less Bleeding & Swelling
Due to its conservative, gentle cutting action and coagulating capabilities, the WaterLase® performs many soft tissue (gum) procedures with little or no bleeding and less post-op swelling.
---
You can have the smile you've always wanted!
To schedule a FREE, no obligation office consultation, contact us today to schedule an appointment.